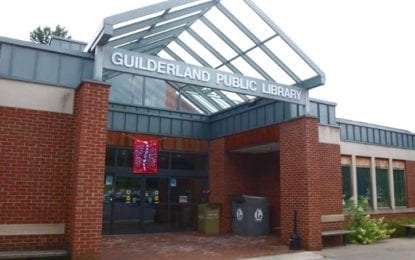 JThanks to a reciprocal agreement between our local Upper Hudson Library System (UHLS) and the Mid-Hudson Library System (MHLS), even more online borrowing options are now available to users of affiliated libraries. UHLS customers accessing the OverDrive digital collection through the Libby app and the OverDrive website can now access portions of the MHLS e-book, e-magazine, and audiobook collection.
UHLS and MHLS allow users to check out up to 10 checkouts at a time. Crates borrowed from UHLS will not count towards the MHLS limit, and vice versa – so users can now borrow up to 20 items per month. UHLS users will be able to renew borrowed MHLS equipment, provided no one else is waiting. Settings configured in the Libby app will automatically be applied to all library systems linked to the user account.
As always, we're here to answer any questions you have about this exciting new partnership, as well as the improved Libby app and OverDrive website. Please contact us at 518-456-2400, ext. 3 or [email protected] to ensure you get the most out of your GPL library card.
Baby & Me Yoga
The second installment of our "Baby & Me Yoga" Zoom class for mothers and their toddlers is scheduled for Monday March 28 at 2:30 p.m., offering a gentle postpartum way to bond, play and relax. together. Moms will learn stretching techniques to strengthen their core, and babies will also benefit from this special time together. Please register on the Events tab of our website to get the participation link.
Baby activity kit
Our latest baby activity set focuses on the benefits of sensory play. It's well known that playing together helps babies' brains and bodies develop and provides opportunities for toddlers and their caregivers to bond. Sign up for your kit, suitable for ages 6-24 months, on the Events tab of our website, then pick it up from Tuesday, March 29 through Sunday, April 3.
night owls
In line
In a troubled world, how to keep hope? This is the central question posed by Dr. Jane Goodall and Douglas Abrams in their timely bestseller, "The Book of Hope: A Survival Guide for Trying Times", published in October 2021. This work is a deeply personal conversation with Goodall , the most famous living naturalist, and Abrams, co-author of the international bestseller "Book of Joy". Four reasons for hope – the amazing human intellect; the resilience of nature; the power of young people; and the indomitable human spirit – are explored, with inspiring anecdotes from Goodall's remarkable career supporting the case for unwavering optimism.
Pick up a copy of this book at the library information counter or arrange curbside pickup in our lobby by calling 518-456-2400 ext. 3 or email [email protected] So sign up on the Events tab of our website for the link to the discussion on Monday, April 11 at 7:30 p.m.
Search for candidates for the board of directors
Looking to influence library decisions? We are looking for you! The Guilderland Public Library Board currently has four open seats for 2022: two five-year terms; and two one-year terms. Eligible applicants must be U.S. citizens, residents of the Guilderland Central School District, and at least 18 years of age. Completed paperwork must be completed by Monday, April 18 for the GPL Board nominee and budget vote on Tuesday, May 17. .
GPL Podcast
Our monthly podcast hosted by Librarian Kathleen Tyrrell, "How Did You Find It?", explores literature, libraries, information, entertainment and more. New episodes debut on the third Friday of every month. Look for us on all major platforms and contact us with your comments and suggestions at: [email protected]
General informations
Overdue fines have been removed at GPL. Customers will be charged for the replacement cost of items not returned.
—Luanne Nicholson Curbside pickup in our lobby is available with 24 hours notice by calling 518.456.2400 ext. 2. Public computers for adults and children are available and study rooms are partially open. Masks are recommended, but not required. Policies based on current COVID conditions are outlined in our Pandemic Operations Plan, accessible on our website.
Current hours are: Monday to Thursday 9:30 a.m. to 9:00 p.m.; Friday 9.30 a.m. – 6 p.m.; Saturday 9.30 a.m. – 5 p.m.; Sunday 1:00 p.m. – 5:00 p.m.