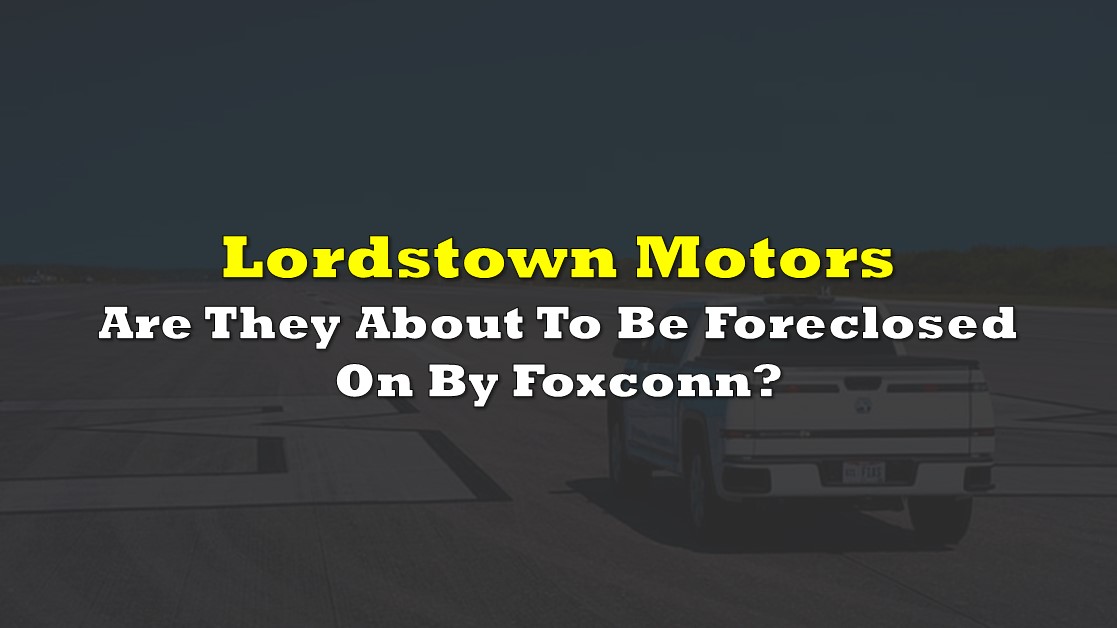 It seems that Hon Hai Technology Group (better known as Foxconn, the assemblers of Apple's iPhones) continues to try to leverage Lordstown Motors Corp. (NASDAQ: RIDE) poor financial standing in a high-stakes poker game that will likely determine whether Lordstown can avoid filing for bankruptcy protection. On April 29, Lordstown announced that the deadline for reaching a final purchase and joint agreement with Foxconn to develop the all-electric Endurance pickup truck created by Lordstown has been extended to May 14, 2022.
The target closing date for the transaction was April 30, 2022.
On November 10, 2021, Lordstown announced an agreement in principle with Foxconn, which was itself an improvement on an initial tentative agreement reached in September 2021. As part of the agreement, Foxconn will buy the production plant and d 6.2 million square foot assembly of Lordstown in Lordstown, Ohio. (excluding hub motor assembly line and module and battery pack lines) for $230 million. Foxconn would pay US$100 million on November 18, 2021 (has been paid); US$50 million on February 1, 2022 (paid on January 28, 2022); US$50 million by April 15, 2022 (paid April 15, 2022); and the balance, US$30 million, at closing.
In addition, Lordstown and Foxconn must negotiate:
A contract manufacturing agreement for Foxconn to manufacture the Endurance™; and
A joint venture agreement to launch the vehicle in North American and international markets.
If Foxconn and Lordstown fail to reach an agreement by May 14 (or possibly later if the deadline is further extended), Lordstown would be required to repay the total of US$200 million in deposits received by Foxconn to this date. Lordstown, of course, does not have the money to make this payment. As a safety net, Foxconn could seize its liens "on almost all of [Lordstown's] assets to secure the repayment obligation.
Lordstown's big concern in all of this is that Foxconn hasn't always honored (at least in spirit) the deals it made in the United States. For example, in May 2017, the company entered into an agreement with the State of Wisconsin to invest US$10 billion in a liquid crystal display (LCD) manufacturing plant project in the state. It would have created 13,000 jobs.
Nothing approaching this scale of investment has ever happened. The city and county where the plant was to be built issued $400 million in bonds to support the development. In turn, a 4,000-acre industrial park was created on which only five little-used structures would have been built. In April 2021, Foxconn renegotiated an agreement with the state which now provides an expected investment of only US$672 million and would create only 1,454 jobs.
On May 9, Lordstown will release its first quarter 2021 results and discuss the status of the Foxconn deal. The details in this release could very well dictate the company's future direction.
In its Q4 2021 report, Lordstown's cash balance increased slightly to US$244 million on December 31, 2021 from US$234 million on September 30, 2021, helped by the cash inflow of US$100 million. US dollars from Foxconn in mid-November. Additionally, Lordstown's quarterly cash burn rate, defined as operating expenses plus capital expenditures, fell to approximately $114 million in Q4 2021 from approximately $180 million in Q3 2021.
| | | | | |
| --- | --- | --- | --- | --- |
| (in thousands of US dollars, except for outstanding shares) | December 31, 2021 | September 30, 2021 | June 30, 2021 | March 31, 2021 |
| Operating result | ($84,664) | ($99,282) | ($110,337) | ($106,206) |
| Operating cash flow | ($141,750) | ($74,866) | ($99,854) | ($71,520) |
| Capital expenditure | ($28,986) | ($80,264) | ($121,000) | ($54,264) |
| Cash – end of period | $244,016 | $233,831 | $365,900 | $587,043 |
| Debt – end of period | $0 | $0 | $0 | $1,015 |
| Shares outstanding (millions) | 196.4 | 182.1 | 176.6 | 176.6 |
Lordstown Motors Corp. last traded at US$2.18 on the NASDAQ.
---
Information for this briefing was found via Edgar and the sources mentioned. The author has no security or affiliation related to this organization. Not a buy or sell recommendation. Always do additional research and consult a professional before purchasing a title. The author holds no license.