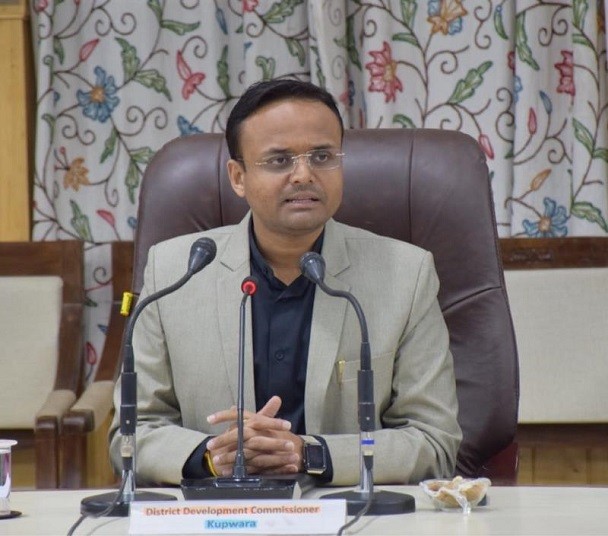 No collateral or guarantor required for bank loan of Rs.10 Lakh: DC Kupwara
November 22, 2022, By Cross Town News
KUPWARA, NOVEMBER 21: The District Development Commissioner (DDC) Kupwara, Doifode Sagar Dattatray, who is also Chairman of DLRC Kupwara, today issued a circular directive in which banks and financial institutions were urged to implement implements the RBI guidelines regarding the sanctioning of loans without collateral or guarantor up to Rs 10 lakh, in letter and spirit.
The circular reads as follows: "The Ministry of Micro, Small and Medium Enterprises clears the office memorandum bearing the number PMEGP/Policy/09/2021, dated: 13-05-2022, has given its approval for the prosecution of the PMEGP program for five years from fiscal year 2021-22 to fiscal year 2025-26.
It is clearly mentioned in the PMEGP guidelines circular that "No collateral will be required by banks as per RBI guidelines for projects involving loan up to Rs. are transmitted by the agencies.
The circular further states that RBI Master Directions-Lending to Micro, Small and Medium Enterprises (MSME sector); "Banks are required not to accept collateral in case of loans up to Rs. 10.00 Lacs granted to MSME sector units. Banks are advised to extend unsecured loans up to Rs. 10 ,00 Lacs to all units funded under the Prime Minister's Job Creation Program (PMEGP) administered by KVIC"
The DDC further in the circular instructions stated that in view of the above mentioned guidelines, all Heads of Banks/Financial Institutions are requested to follow the guidelines in letter and spirit and extend loans without guaranteed without any requirement or guarantor up to a limit of Rs. 10.00 Lacs for PMEGP cases.
Any flippant approach or reluctance on the part of a bank branch manager should be treated seriously and the necessary disciplinary action, in accordance with the rules, should be taken against the offending agent/official.