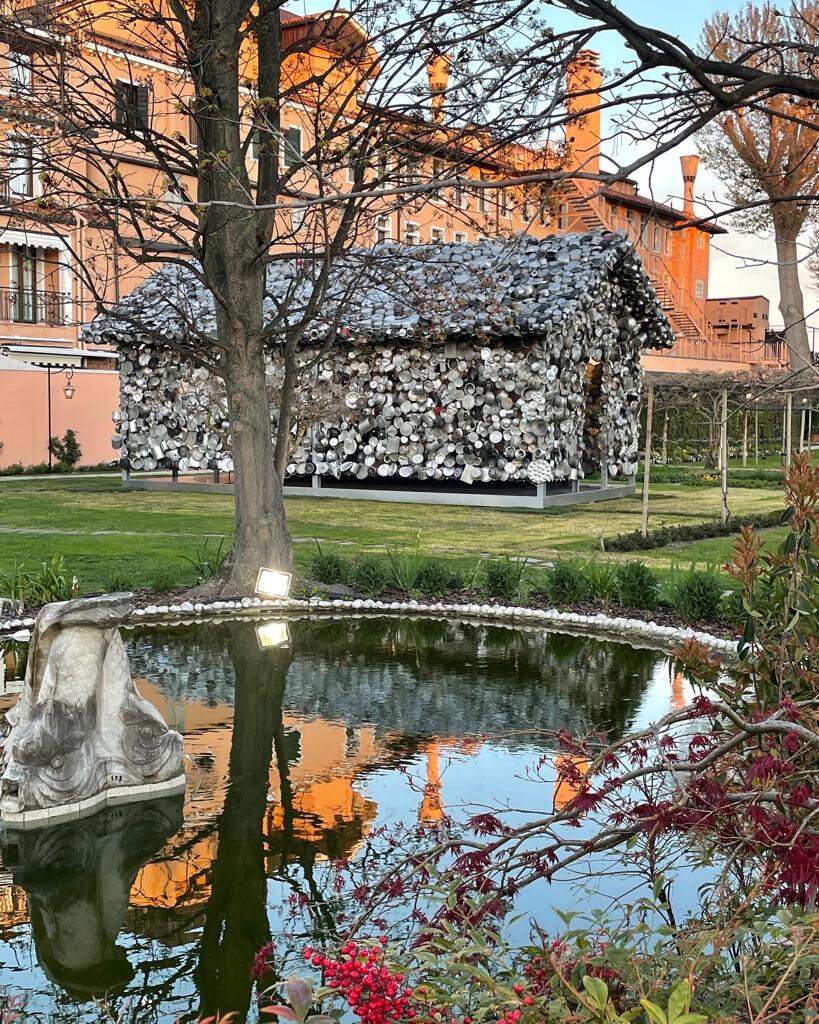 At Cipriani, A Belmond Hotel, Venice, curated by the brilliant Hervé Mikaeloff, an apron-clad Subodh Gupta will entertain art lovers on April 23, 2022. It is part of the prestigious Venice Biennale collateral exhibition represented by Galleria Continua, a gallery that celebrates installations and new mediums in cutting-edge art.
Immersive installation
Subodh shared images of his installation in Venice. This immersive installation of found aluminum utensils, monofilament line, and steel transforms into a cabin for this epic cook in which he'll don aprons and cook up Indian recipes from his legendary culinary escapades.
Cooking the World II (2022) by Subodh Gupta, presented by the Galleria Continua San Gimignano, will recreate an open hut made of used aluminum utensils, inside which he will carry out a cooking and eating performance, commemorating the practices centuries-old Indian rituals. "I love to cook," says Subodh, who defies readymade aesthetic traditions to present new ideas of references and anecdotal assumptions to viewers so we can relate to our own associations.
Rituals and symbolism
In an age of migration and displacement complemented by growing intolerance, Subodh's culinary performance will be a commentary on the rituals and symbolism of food consumption and preparation that have come to grow in importance around the world.
In Western cultures, the notion of gathering around the dinner table indicates a sense of family connection and intimacy in the practice of sharing a meal, a custom even more pronounced in contemporary and ancient Indian communities. "With the diversity of religious and cultural groups in India comes a range of dietary restrictions and regional culinary specialties. Offering to share a meal is the best indicator of inclusion and acceptance in a community. This installation is accompanied by a cooking and eating performance, in which the food will be prepared by the artist and consumed by the "spectator".
The entire installation is designed to draw the viewer into the gardens of this magnificent hotel. Subodh Hut creates a lovely picture of stories of time and tides in human habitation.
Used aluminum utensils delicately suspended from transparent fishing lines create the porous, textured shelter for the performance. These worn vessels, discarded by their former users, bear witness to individual stories and tales of past usefulness. Together, the utensils enclose a new collective ritual space, alluding both to subjectively experienced destinies and to common cosmological destinies.
Gupta uses the everyday, the domestic and the familiar – to affect impact through unexpected cohesive proportions. For spectators, the walls of used utensils look like a veiled curtain. The experience is necessarily sensory.
Paradigms of gastronomy
In the context of his monumental hut installation of used utensils, Gupta's culinary performance will present a modern paradigm of gastronomic art that transcends the traditional art fair booth. The hut as an avant-garde installation is colossal, it looks like a walled hut with vessels forming a whole. Subodh's five-course meal will be like a gourmet adventure.
Gupta will create a historical leaf in the denouement of traditional vernacular cuisine. Its menu will include dishes of Indian origin like vegetarian lentil soup as well as Goan prawn curry, lamb curry and a dessert. "While cooking, I also consciously explore the socio-political aspects of cooking and eating. In India, cooking and eating embraces all classes – this translates into inclusivity and exclusivity, belonging and non-belonging. Communities are known by what they eat or don't eat. I think in every state in India there are distinct emotional and historical layers around culinary practices and that fascinates me," says Subodh.
Ships that tell stories
Subodh collects used utensils from the scrap market. "Every utensil used in someone's home, somewhere, sometimes tells so many stories. I like the familiarity of these used utensils, I know them and I identify with those who owned them," says Subodh.
"It all goes back to my childhood. I grew up in a house with so many utensils like these, so it feels like home.
When I asked him why he didn't use shiny new utensils like in his other projects, he said, "The new utensils are shiny, but they're cold and empty. These used utensils are warm, humble and have so much character. It's like meeting an old friend.
memory and memory
His love for cooking dates back to childhood memories of hanging out in his mother's kitchen; in this performance, the avant-garde artist recreates both experiences and memories. Subodh talks about his penchant for cooking, especially Kerala cuisine. "For me, cooking is a hobby and a passion, but now it's an exploration. For me, cooking starts with my mother. I loved being with her, I was fascinated by the ritual and the ceremony in the kitchen area, how certain vessels were used for certain occasions. I watch a lot of cooking episodes on YouTube. I love learning new recipes," he adds.
(Image credit: Subodh Gupta)
END OF ARTICLE